Supported and Transitional Employment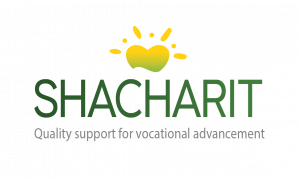 Integration at work is a central feature in the rehabilitation process.
We believe that the ambition of every person is to be employed in the mainstream workplace, to develop professionally, to map out a career path and to find satisfaction and meaning.
Along with supporting the client, getting to know his needs, abilities and skills, it is also important to be aware of the changing trends in the job market: the availability of jobs, professions in demand now and in the foreseeable future, new branches and fields and more. The exact juncture between the needs of the job seeker and the realities of the job market is where the unique "Shacharit" (Dawn) services come to play.
At Bayit Cham, our vocational coaches offer people with mental health disabilities individualized support and guidance.
Our aim is to enable clients to meaningfully integrate at employment in companies and businesses in the best possible way in all aspects: a profession that matches their abilities; that promotes their career horizon; a suitable work environment; healthy employee-employer relations; social conditions as required by law and more.
Main features of the process
Mapping needs, barriers and capabilities
Choosing the most suitable professional direction
Preparing for job interviews
Searching and finding
a job
Guidance to professional training, academic studies and career development
Innovative support adapted to the changing job market
Exercising rights for benefits
Solving concrete problems
We work with each client individually in order to develop the necessary habits for integration at the workplace and perseverance on the job. A significant part of the process is devoted to breaking negative thought and behavior patterns which hinder the person and impede his progress.
We provide clients with emotional and practical support and guide them when needed even after integration at the job.
Everything you need to know >>>
| Tel | Mail | Job Title | Region | Name | | | | |
| --- | --- | --- | --- | --- | --- | --- | --- | --- |
| 054-8400374 | yehiel.b@bch.org.il | Vocational coach, supported employment | Ashdod region | Yechiel Blass | | | | |
| 054-2622676 | yudit.d@bch.org.il | Vocational coach, supported employment | Netivot, Sderot, Ofakim and Ashkelon | Yehudit Dahav | | | | |
| 054-2622016 | yael@bch.org.il | National Director, supported and transtitional employment | Throughout Israel | Yael Ariel | | | | |
| 054-8400196 | Yaakov.d@bch.org.il | Regional Director, supported employment, social worker | Central Region | Yaakov Dzimitrovsky | | | | |
| 054-2622245 | pinchas.o@bch.org.il | Vocational coach, supported employment | Bnei Brak region | Pinchas Ohana | | | | |
| 054-2622154 | miri.i@bch.org.il | Vocational coach, supported employment | Bnei Brak,Elad region | Miri Indig | | | | |
| 054-8400197 | Efrat.b@bch.org.il | Vocational coach, supported employment | Bnei Brak, Elad regions | Efrat Beckerman | | | | |
| 054-8400947 | chaya.b@bch.org.il | Vocational coach, supported employment | Bnei Brak region | Chaya Baron | | | | |
| 054-8400175 | Tovi.g@bch.org.il | Vocational coach, supported employment | Elad, Bnei Brak | Tovi Goldchtof | | | | |
| 054-8400189 | Rivki.c@bch.org.il | Vocational coach, supported employment | Bnei Brak region | Rivki Cohen | | | | |
| 054-2621593 | Shmuel.K@bch.org.il | Vocational coach, supported employment | Bnei Brak region | Shmuel Kesler | | | | |
| 054-8400193 | rachel.r@bch.org.il | Vocational coach, supported employment | Bnei Brak region | Rachel Rubinstein | | | | |
| 054-8400192 | ShifraS@bch.org.il | Vocational coach, supported employment | Bnei Brak region | Shifra Sheiner | | | | |
| 054-8400322 | avram.sh@bch.org.il | Vocational coach, supported employment | Bnei Brak, Elad regions | Avraham Schnek | | | | |
| 054-2622024 | noy@bch.org.il | Regional Director, supported employment | North region | Noy Bar Cocva | | | | |
| 054-9810073 | HodayaB@bch.org.il | Vocational coach, supported employment | North region | Hodaya Ben Nun | | | | |
| 054-2622021 | sisi.w@bch.org.il | Vocational coach, supported employment | North region | Sisi Weinshtein | | | | |
| 054-2620164 | roy.h@bch.org.il | Vocational coach, supported employment | Netanya region | Haviv Roy | | | | |
| 054-2622006 | l.h@bch.org.il | Vocational coach, supported employment | Afula, Beit She'an | Leora Hakmon | | | | |
| 054-2622007 | yael.c@bch.org.il | Vocational coach, supported employment | | Yael Chen | | | | |
| 054-2622018 | galitm@bch.org.il | Vocational coach, supported employment | | Galit Mor Yosef | | | | |
| 050-8272781 | nuritk@bch.org.il | Vocational coach, supported employment | Afula, Beit She'an | Nurit Konyo | | | | |
| 054-2622034 | Liron.G@bch.org.il | Vocational coach, supported employment | Ramat Gan, Givatim, Or Yehuda, Kiryat Ono, Tel Aviv | Liron Gradowski | | | | |
| 054-2622031 | NoaZ@bch.org.il | Vocational coach, supported employment | | Noa Zlotnik | | | | |
| 054-2622667 | hila.m@bch.org.i | Vocational coach, supported employment | Tel Aviv region | Hila Meir-Batish | | | | |
| 054-2622077 | zipip@bch.org.il | Vocational coach, supported employment | Petah Tikva region | Tzipi Popper | | | | |
| 054-2622004 | riki.s@bch.org.il | Vocational coach, supported employment | The Sharon and Kfar Saba regions | Riki Steiner | | | | |
| 054-8400199 | yoel@bch.org.il | Regional Director, supported employment, social worker | Southern Region | Yoel Helfgott | | | | |
| 054-2622644 | avraham.a@bch.org.il | Vocational coach supported and transitional employment | Ashdod region | Avraham Avrotzky | | | | |
| 054-2621170 | Eva.B@bch.org.il | Vocational coach, supported employment | Ashdod, Ashkelon | Eva Ben-David | | | | |
| 054-2622052 | yeudag@bch.org.il | Vocational coach, supported employment | Southern region | Yeuda Glikson | | | | |
| 054-2622149 | ShiraD@bch.org.il | Vocational coach, supported employment | Southern region | Shira Diamant | | | | |
| 054-2622087 | hedva.d@bch.org.il | Vocational coach, supported employment | Ashkelon region | Chedva Daskal | | | | |
| 054-9800069 | aharon.v@bch.org.il | Vocational coach, supported employment | Southern Region | Aaron Wanger | | | | |
| 054-9800068 | IritL@bch.org.il | Vocational coach, supported employment | Ashdod region | Irit Lapidot | | | | |
| 054-2620967 | Noga.M@bch.org.il | Vocational coach, supported employment | northern region | Shani Novik | | | | |
| 054-6130002 | MosheS@bch.org.il | Vocational coach, supported employment | Southern Region | Moshe Shmuelian | | | | |
| 052-5827168 | penina.m@bch.org.il | Regional Director, supported employment | Jerusalem and Shfela regions | Penina Medina | | | | |
| 054-8400117 | bluma.g@bch.org.il | Vocational coach, supported employment | Beitar , Beit Shemesh region | Bluma Graifman | | | | |
| 054-2622035 | odelia@bch.org.il | Vocational coach, supported employment | Ramla, Lod, Modi'in regions | Odelia Danan | | | | |
| 054-2622641 | Rivka.Z@bch.org.il | Vocational coach, supported employment | Modiin Illit region | Rivka Zer | | | | |
| 054-2621297 | yona.t@bch.org.il | Vocational coach, supported employment | Beit Shemesh and Beitar regions | Yona Turchin | | | | |
| 054-8400526 | moshe@bch.org.il | Vocational coach, supported employment | Modi'in Illit region | Moshe Katz | | | | |
| 054-2620967 | OsnatL@bch.org.il | Vocational coach, supported employment | Jerusalem region | Osnat Lausani | | | | |
| 054-8400176 | Adit.l@bch.org.il | Vocational coach, supported employment | Jerusalem region | Adit Lederer | | | | |
| 054-2622029 | adi@bch.org.il | Vocational coach, supported employment | Ramla, Lod, Modi'in regions | Adi Inbar | | | | |
| 054-2621546 | Brurya.p@bch.org.il | Vocational coach, supported employment | Jerusalem region | Brurya Perez | | | | |
| 054-2622094 | shimon@bch.org.il | Vocational coach, supported employment | Jerusalem region | Shimon Kuperstein | | | | |
| 054-8400151 | zvi.k@bch.org.il | Vocational coach, supported employment | Modiin Illit, Jerusalem regions | Tzvi Krasnianski | | | | |
| 054-2622032 | liora.k@bch.org.il | Vocational coach, supported employment | Jerusalem region | Liora Kramer | | | | |
| 054-8400194 | Eliyahu.r@bch.org.il | Vocational coach, supported employment | Jerusalem region | Eliyahu Rabani | | | | |
| 054-9810083 | tamark@bch.org.il | Vocational coach, supported employment | Sharon region | Tamar Kamari | | | | |
| 054-262-2026 | chen.s@bch.org.il | Vocational coach, supported employment, Hop(e) Styling | Vocational coach, supported employment | Chen Shochet | | | | |
| 054-2622234 | Bracha@bch.org.il | Vocational coach, supported employment | Jerusalem region | Bracha Sharvit | | | | |