Individual Support for Career Advancement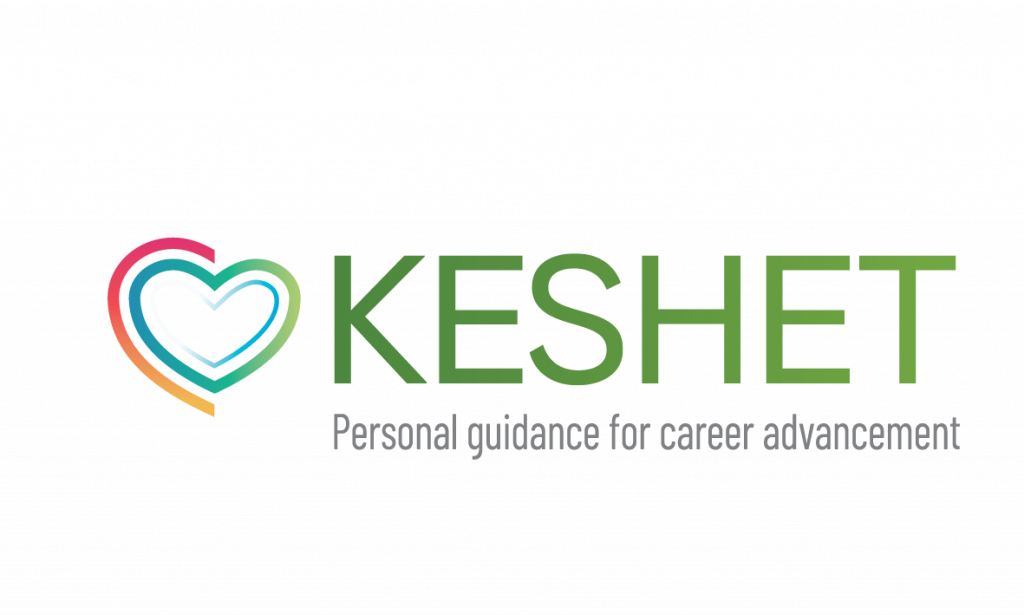 Many tend to look at disabilities as an obstacle that prevents a person from moving forward and achieving his/her goals in life. But truthfully, when you view a limitation not as an obstacle but rather as a challenge, not only can you beat it – you can even turn it into a springboard! It is with this worldview of ours at Bayit Cham that "Keshet" (Rainbow) services were born.
At Keshet, we provide individual vocational coaching to people with a variety of disabilities: physical, sensory, cognitive, communication, developmental and ASD. Keshet's professional team includes social workers and vocational coaches. Together we provide each client with individualized support throughout the process:
The Center's Vocational Programs
Developing a variety of employment skills and familiarization with various career options in accordance with the client's abilities, interests and market trends
Support in professional training
Enabling clients to succeed even in their more difficult moments, to believe in themselves and achieve great accomplishments
Emotional and cognitive support
Writing resumes, preparing for job interviews, acquiring and strengthening work habits necessary for integration, perseverance as well as development and growth in the workplace
Help in finding a job and individualized professional development
Assisting clients in demanding and receiving what they deserve: an accessible work environment, social conditions and various benefits, and problem solving when necessary
Information and support in exercising rights
Looking forward, we encourage clients to acquire diverse digital skills that are necessary today,
and encourage them to move on to professional training and education
with the aim of creating a long-term career path.
Everything you need to know >>>
| Tel | Mail | Job Title | Region | Name | | | | |
| --- | --- | --- | --- | --- | --- | --- | --- | --- |
| 054-2622009 | karen.a@bch.org.il | Throughout Israel | Director of supported employment, general disabilities | Keren Amichai | | | | |
| 054-9800046 | innat@bch.org.il | | Vocational coach, general disabilities | Ina Tal | | | | |
| 054-9800077 | Bilha.Levy@bch.org.il | Northern region | Vocational coach, general disabilities | Bilha Levy | | | | |
| 054-9810073 | HodayaB@bch.org.il | | Vocational coach, general disabilities | Hodaya Ben Nun | | | | |
| 050-8272781 | nuritk@bch.org.il | | Vocational coach, general disabilities | Nurit Konio | | | | |
| 054-9800047 | sisi.w@bch.org.il | | | Sisi Weinshtein | | | | |
| 054-9800074 | Sapir.M@bch.org.il | Hadera region | Vocational coach, general disabilities | Sapir Meshulam | | | | |
| 050-2888177 | RachelElgabsi@bch.org.il | Central region | Social worker of supported employment, general disabilities | Rachel Elgabsi | | | | |
| 054-2622086 | hadar.g@bch.org.il | Ramat Tan, Kiryat Ono, Tel Aviv regions | Vocational coach, general disabilities | Adar Greenfeld | | | | |
| 052-3358942 | dikla.lip@bch.org.il | Petach Tikva, Netanya and the Sharon regions | Vocational coach, general disabilities | Dikla Lipinsky | | | | |
| 054-9800066 | ruth.m@bch.org.il | Modi'in, Ramle regions | Vocational coach, general disabilities | Ruth Modai | | | | |
| 054-9800075 | DavidV@bch.org.il | Elad, Bnei Brak regions | Vocational coach, general disabilities | David Wengrover | | | | |
| 054-9800044 | DINA.A@bch.org.il | Elad, Bnei Brak regions | Vocational coach, general disabilities | Dina Alal | | | | |
| 052-4232295 | Vered.i@bch.org.il | Holon, Bat Yam, Rishon leTzion regions | Vocational coach, general disabilities | Vered Yisraeli | | | | |
| 054-9810061 | yaakov@bch.org.il | Bnei Brak region | Vocational coach, general disabilities | Yaakov Cohen | | | | |
| 054-9800078 | Chagits@bch.org.il | Jerusalem region | Director of supported employment, general disabilities ,Jerusalem region | Hagit Zion | | | | |
| 054-9800062 | michal.h@bch.org.il | Jerusalem, Maale Adumin regions | Vocational coach, general disabilities | Michal Hirshler | | | | |
| 052-3996359 | dvora@bch.org.il | Jerusalem region | Vocational coach, general disabilities | Dvora Dadash | | | | |
| | Shaya@bch.org.il | | Vocational coach, supported employment, Jerusalem region | Shaya Freudenberger | | | | |
| 054-9800073 | sara.d@bch.org.il | Beit Shemesh region | Vocational coach, general disabilities | Sarah Druck | | | | |
| 054-9800043 | haim.s@bch.org.il | Jerusalem, Beitar Illit regions | Vocational coach, general disabilities | Chaim Shitrit | | | | |
| 054-9800065 | YFridman@bch.org.il | Jerusalem region | Vocational coach, general disabilities | Yehonetan fridman | | | | |
| 054-8400199 | yoel@bch.org.il | Ashdod region | Social worker of supported employment, general disabilities | Yoel Helfgott | | | | |
| 054-9800068 | IritL@bch.org.il | Ashdod, Kiryat Malachi regions | Vocational coach, general disabilities | Irit Lapidot | | | | |
| 054-2622009 | hedva.d@bch.org.il | Ashdod region | Vocational coach, general disabilities | Chedva Daskal | | | | |
| 054-2622052 | yeudag@bch.org.il | Southern region | | Yeuda Glikson | | | | |
| 054-2622149 | ShiraD@bch.org.il | Southern region | Vocational coach, general disabilities | Shira Diamant | | | | |
| | agamv@bch.org.il | | Social worker, Director of Ashdod region | Agam Laliv | | | | |
| | talii@bch.org.il | Southern region | Vocational coach, general disabilities | Tali Ifrach | | | | |